Dark Chocolate Peanut Butter Cups
Looking for a super quick and easy Valentine's Day treat for your loved ones? These Dark Chocolate Peanut Butter Cups are perfect!
I made these with my son in no time at all this past Sunday. It doesn't require a mixer or food processor as everything comes together quickly with just a large fork. It only requires 5 ingredients too! I did get crazy and added a heaping scoop of collagen peptides for an extra boost but this is totally optional. If you/ your family prefers things sweet then you can always add a tablespoon or two of maple syrup or honey. I didn't use any and my son loved them! He kept begging for more of them all day. I love when I create a recipe that my son thinks is a guilty pleasure but is actually packed with protein and healthy fats that won't sky rocket his blood sugar. WINNING!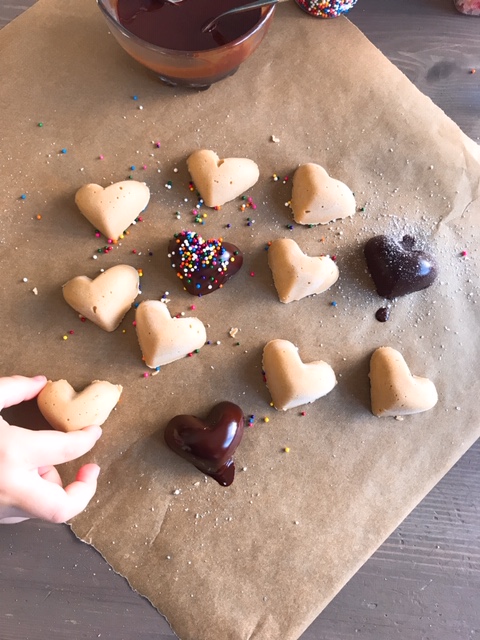 His little hand can't even wait for me to take the photo.
If you or a loved one has a nut allergy simply sub in organic sunflower or tahini butter.
Peanut butter varies in texture. Some brands are more runny while others are thick and dry. I like Trader Joe's or Sprouts bulk bin because it is thin and creamy. Depending on what brand you use will depend on the amount of coconut flour you need so adjust according to texture.
I really, really, really love dark chocolate. I am the girl that buys 100% dark chocolate and eats a square every day - sometimes dipped in a big heaping scoop of peanut butter. You can of course use milk chocolate or whatever percentage you prefer.
Dark Chocolate Peanut Butter Cups
INGREDIENTS
1 c organic salted peanut butter

3 T coconut oil, melted

2 tsp vanilla extract

1/2 c coconut flour, sifted

1 bar of Ghriadelli 92% intense dark chocolate

Optional: collagen, sweetener, sprinkles, sea salt
DIRECTIONS
Stir together the peanut butter, 2 T of coconut oil, vanilla extract, and coconut flour with a fork until well combined.

Roll peanut dough into balls or press into your favorite holiday mold.

Place in the freezer for 10 minutes.

While the peanut dough is hardening, add the dark chocolate bar and the remaining 1 T of coconut oil to a small pot and heat on very low until melted. Stir until well combined.

Removed the peanut dough from the freezer and dip in the melted chocolate mixture. Add back into the freezer for another 5-10 minutes until the chocolate coating sets. Store in the fridge for a week or in the freezer for a month.

Let sit out for a few minutes before eating so they soften slightly.
Happy Valentines Day to you and your loved ones! Don't forget to love yourself too!!